Hey! This is Alice Orrù, freelance copywriter, content designer and tech translator with a specialization in inclusive and accessible languages.
With my content design and inclusive SEO copywriting services I support companies and freelancers who, like you, want to find their voice on the web.
I follow you in the delicate work of relating to your audience by using words that make people feel welcomed and respected.
I create content that reflects your values, that clarifies doubts, that leads to purchase.
Content that talks (and makes people talk) about you.
I help you re-establish trust in words, working on your tone of voice and making your site speak as if you were the one telling the story.
I do all this using inclusive languages.
---
Hi! I am Alice Orrù,
content designer and translator with two great superpowers: inclusive languages and WordPress.
I live near Barcelona, love patatas bravas and work remotely.

I write and translate texts that describe your business and products in a transparent, trustworthy and accessible way.

And since I speak (and work in) four languages, I can also help you with your international project.
Inclusive copywriting: what does it mean?
Inclusive copywriting is the ability to write content that respects not only good writing standards but also the people who read that content.
I curate words so that they do not contain gender stereotypes or expressions that discriminate against people because of their physical, functional, social, ethnic or religious characteristics.
I write in English and Italian. I use a crystal-clear and accessible language that allows any person to recognize themselves and to feel they belong. This is a huge value-add for your audience and your online reputation.
My talents, for you
Content design
I design web content that leads people to immerse themselves in your story.
Whether it's long texts or microtexts, the key is to allow them to follow the storyline and never feel left out in the journey.
I turn visitors to your website into people who love your products or services, buy them, and spread the word.
Inclusive and accessible writing
I find the best way to lead people to your website and make them fall in love with your content. I write content that speaks in a human, clear and cliché-free voice.
That way, anyone who comes to your site can learn about your brand, products, or services. And always feel like they belong to a safe space.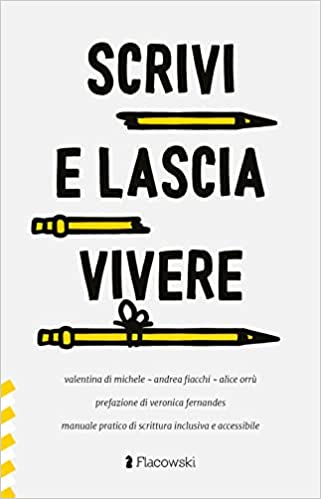 Scrivi e lascia vivere.
Practical handbook of inclusive and accessible writing.
Words have an impact in people's lives: they perpetuate prejudice, situations of inequality, exclude people from rights and opportunities. Language is the heritage of all people; it is a political act. And we have a responsibility to ask ourselves what kind of world we are helping to create.
"Scrivi e lascia vivere" is the first Italian handbook on inclusive and accessible languages and writing, dedicated to those who work with words, in business, press and media, consulting and training. I co-wrote it with Valentina di Michele and Andrea Fiacchi, Flacowski Editions.